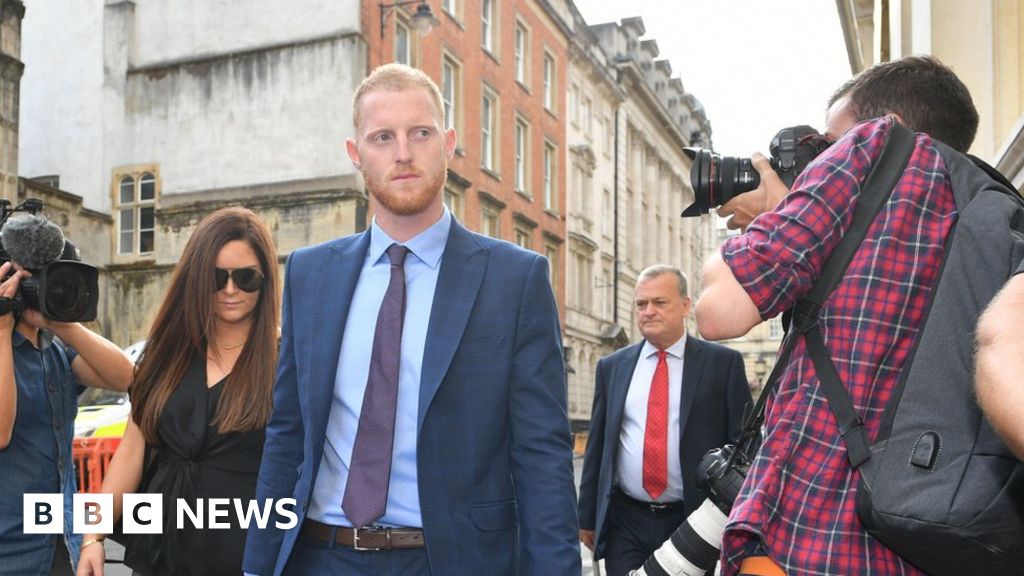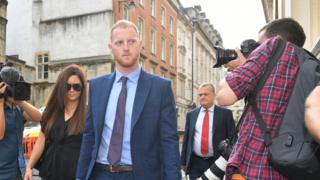 England cricketer Ben Stokes was "spiteful and angry" towards a bouncer before he was involved in a fight with two men, a court has heard.
The Durham all-rounder is one of three men accused of fighting in Bristol on 25 September.
Bristol Crown Court previously heard Ryan Ali, 28, and Ryan Hale, 27, were knocked unconscious by 27-year-old Mr Stokes.
They also deny affray and are on trial alongside the cricketer.
Giving evidence, bouncer Andrew Cunningham said Mr Stokes became abusive after he was refused entry back into Mbargo nightclub just after 02:00 BST.
Teeth and tattoos
Mr Stokes and his team-mate Alex Hales had left the nightclub at 00:46 but returned at 02:08.
Mr Cunningham said he explained to them the club was closed and they would not be allowed to enter.
He told the jury Mr Stokes offered him £300 to be let in, but after he refused the all-rounder became "spiteful and angry" and insulted Mr Cunningham's gold teeth and tattoos.
Det Con Daniel Adams said CCTV footage played in court showed Mr Stokes flicking a V-sign at Mr Cunningham.
However, the cricketer's barrister Gordon Cole QC said it was not accepted that Mr Stokes had made the gesture.
The CCTV also shows two men, William O'Connor and Kai Barry, leaving the club in the Clifton Triangle area of the city and the pair engaging in conversation with Mr Stokes and Mr Hales.
Prosecutors say Mr Stokes mocked the two "openly gay" men outside the venue.
However, Mr Cole said Mr Barry and Mr O'Connor, who had both been inside the club, had been "taking the mickey" out of his client's shoes.
'Camp hand gestures'
Referring to the CCTV, Det Con Adams told jurors Mr Stokes had "mimicked the actions" of Mr O'Connor and then "flicked something which we believe was a cigarette butt" at him.
Mr Cunningham described Mr Barry and Mr O'Connor as "effeminate" and "flamboyant" and told the court Mr Stokes had "made noises" and "camp hand gestures" to mock them.
He said he told Mr Stokes: "If you are going to start on someone start on me."
Mr Cunningham continued: "When I said this [Mr Hales] looked a bit confused.
"I explained to him what he had done. He turned to his friend and said 'Stokesy don't do that'."
He said that before leaving the club area Mr Stokes shook hands with his door supervisor colleague but he refused to do so.
"He went to shake mine and I had no reason to shake his hand," he said. "They left and walked up the road."
Mr Stokes, of Castle Eden, Durham, was arrested in the early hours along with Mr Ali, of Bristol, and Mr Hale, of Westbury-on-Trym, Bristol.
The fight took place several hours after England had played a one-day international against West Indies at the city's County Ground.
The trial continues.